Hello digiscrappers! Happy Friday! Today I have a different kind of release! If you are interested in having a custom design and installation done for your business blog or personal blog for a very reasonable price, then look no further! I now offer custom design and installation on blogger blogs!
Custom Blog Design for Designers and Personal Blogs by Jady Day Studio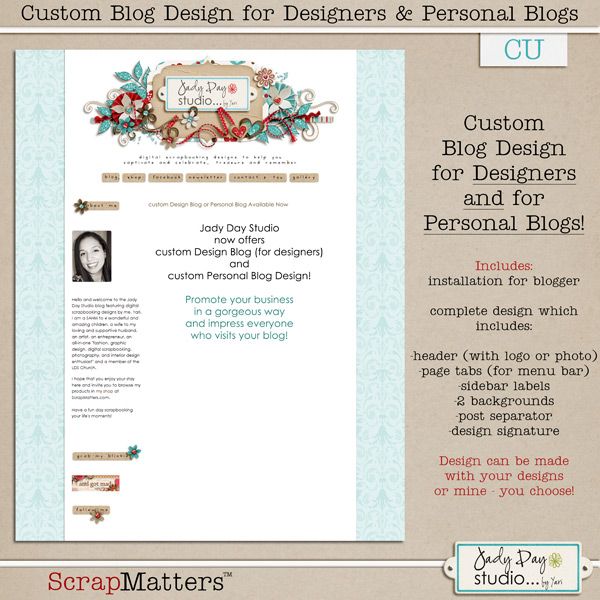 Here's two examples of my work:
-This very blog you are visiting was done completely by me. :)
-
A Business Blog
I did that truly looks like a website rather than a blogger blog, AND she doesn't have to pay anything for hosting since it's a blogger blog! (If you are interested in something like this, please contact me for price and information at jadyday(at)gmail(dot)com)
Included in the downloads are instructions of how the entire process works (fill out the attached document and email it to me at jadyday(at)gmail(dot)com.
Turn around time is about a week. I will create a custom design for your blog using either your kit or mine and make it exactly the kind of blog you want to inspire all who visit it.
-Design includes header with logo or photo (you choose)
-2 backgrounds
-Sidebar labels
-Optional Top Menu Bar tabs
-Post separators
-Author signature
Once I am done with your blog I will notify you so that you can check it to make sure that you love it. If changes need to be made, no problem at all. I want you to be completely happy with your design.
If you have something specific envisioned for your blog just let me know and I will do my best to incorporate it into the design and installation.
PLEASE NOTE: My custom design of blogger blogs do not include the annoying top bar that blogger blogs typically have, thus making your blog a seamless page that looks like a website more than like a blog.
I will need to have temporary access to your image hosting site as well as your blogger blog in order for me to be able to install the template and design on the blog.
You also choose your font of preference and label/menu tab names for your blog!
I am really excited to get started on your blog. You can expect great quality work in my designing and installation of your blog, as well as promptness in the completion of it.
Are you ready to get that blog all beautified? Let's do it!