Happy New Year everybody!!!
Hello digiscrappers! I hope you are having a great day today and that your weekend is waiting for you hopefully with some time to scrap. Today I am bringing you a kit that for some time I have wanted to make but it wasn't until recently with the passing away of my grandmother that I realized how much I wanted to a beautiful kit to scrap and journal about her life and all that she means to me. From designing it to scrapping with it, it has been an emotional journey for me with the thought of how I miss her so much. At the same, I know that as I record those precious photos of her and experiences with her, I am celebrating her life and have found comfort in the hope that I will see her again some day. I hope that you too will find the same comfort as you record memories of your loved ones and celebrate their life.
Missing You - 20% OFF through 1/8 with a FREE with Purchase OFFER



Buy Missing You (the kit) and get the Missing You Add-on Word Art included in your downloads! Offer expires 1/13.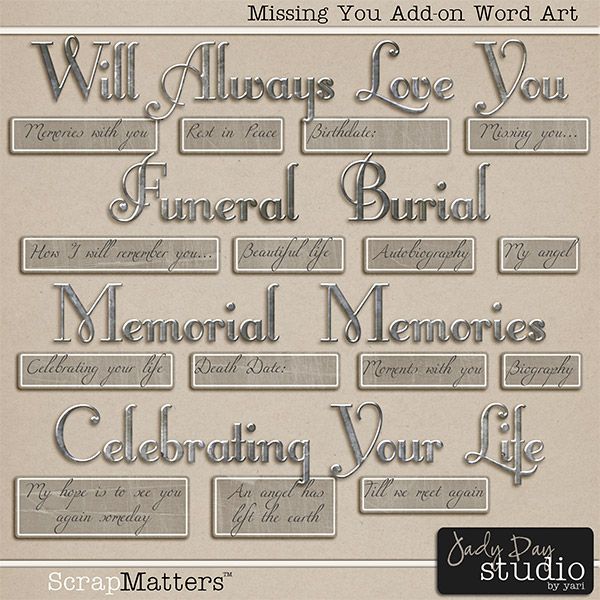 This beautiful kit is especially made for honoring those loved ones we've lost over the years but with it's soft color palette and beautiful flowers this kit will lend itself to more than just memory pages.
I also have some amazing new photo masks to give your photos an instant gorgeous flip! These photo masks will pretty your layouts right up!
Pretty Me Up Photo Masks - 20% OFF through 1/8

Here's some gorgeous inspiration from my Studio Babes, the ScrapMatters creative team, and yours truly. :)
Until next time, have fun capturing and celebrating, treasuring and remembering. Hugs!!
Yari