My goodness! I haven't been on here in like forever. Man! What is up with that, huh? lol No worries, thankfully I am back on here and posting my newest goodies for you and of course, an awesome freebie.
First, take a look at my latest kits at Scrap Orchard (pure awesomeness! he he):
Looking for the perfect Halloween kit? Then check out the cuteness below (I mean, seriously, can you say adorable? lol). Allow me to introduce to you "Boo-tiful Spook." Eyes this way please:
And the Boo-tiful Spook coordinating Quickpages:
PLUS, here's a special offer!
Buy the Boo-tiful Spook kit (on sale at 20% OFF now) and get the coordinating quickpages FREE!
Offer ends Thursday, October 22, so hurry! :)
And here's a fantastic collab kit between yours truly and Ziggle Designs called Bountiful Blessings, perfect for all of your Fall memories, from the pumpkin patch to Thanksgiving! Looky looky:
And here's the Bountiful Blessings coordinating Quickpages:
Finally, don't you just LOVE Fall? I know I do! Preserve all of those wonderful Fall memories with my out-of-this-world-cute Fall kit called Autumn in Hooville! Check it out:
Autumn in Hooville coordinating quickpages:
Finally, to thank you for stopping by and checking out all of my latest goodies, here's a freebie using my Bootiful Spook kit. Hope you love it! Hugs!!!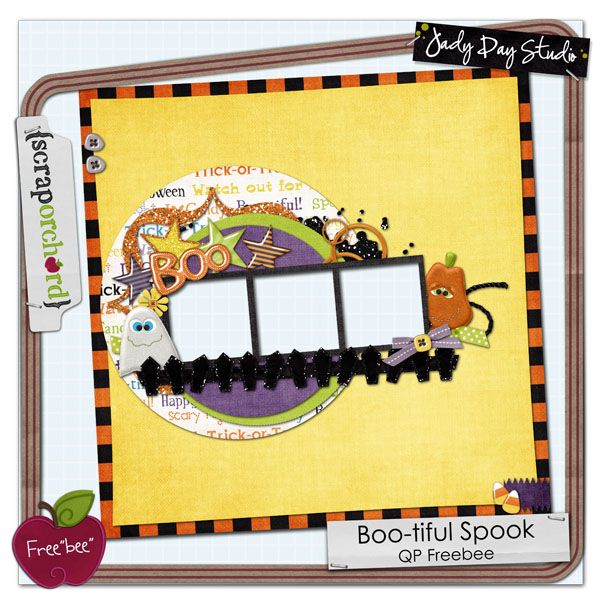 Click on the preview to download or click
here