Hey y'all! What's going on in digi land today? Have you missed me? Well, I sure missed coming on here and posting some great announcements earlier for you and some great freebies! See, I was gone, gone on vacation, for the last two weeks... yup...and I well...had a blast! What can I say? But I am definitely glad to be home. We went from Ridgecrest, CA to Eugene, OR, then back down through the Pacific Coast Highway (in some parts) and it was gorgeous to say the least! Then we headed down to beautiful San Diego, CA, and well, then back home. We had a great time! :)
OK, on to the important stuff here. I know, I know, you are all dying to know who my new CT members are, right, well then, let's get right to it! Please help me welcome.... (drum roll please...):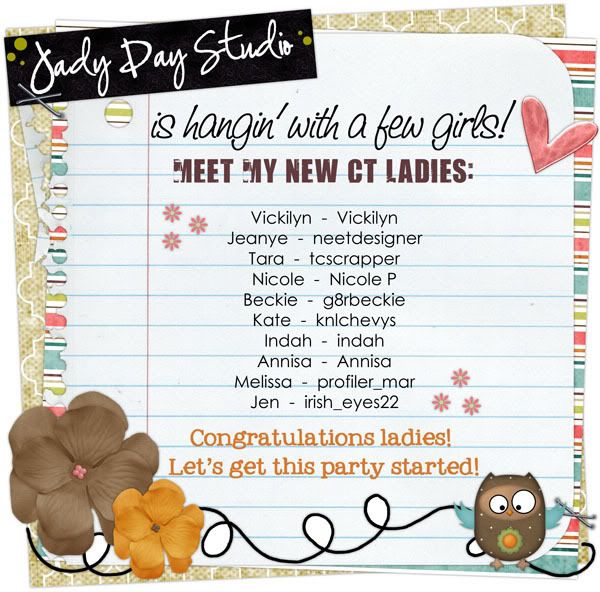 These ladies are AMAZING and I am so happy that they are in my Creative Team!
Oh, but guess what? These are not the only girls I'm hanging out with! Haven't you heard? I'm an Orchard Girl now! Jady Day Studio is now at scraporchard.com will be exclusive there too. Check this out:
Told ya it was a BIG, HUGE announcement! And just for that I have this for you (it's not a freebie but come back soon cause I will be posting one soon!):
"I'm so excited, and I just can't hide it! Come and lose control with me cause I think you'll like it!" LOL! Yay! Yari's an Orchard Girl! Can I get a woot woot?!
Hugs!